About Us: Our Equipment

Services Our Equipment What to Bring Rental Pricing Questions

Our Kayaks
We have Heritage kayaks; singles and doubles. Traditional FeatherLite 9.5, RedFish 12', and FeatherLite Tandem 14'. These boats are ideal for all of the flatwater river trips we offer. Our kayaks were made by a company that takes extreme pride in building safe, stable, user friendly kayaks. They are wide, comfortable, have built in flotation & are roomy enough to stow extra clothes, a lunch & the safety gear we provide... and still have the leg room you need to stretch. We use the deluxe models of Heritage Kayaks.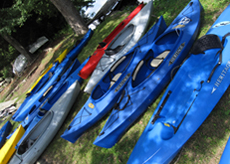 Lifejackets
You will be fitted with a clean, comfortable, adjustable PFD that will allow you to paddle freely with no arm restrictions.

Paddles
Our paddles are lightweight with a leash should you decide to jump out for a swim or explore a beach, island, sandbar or other interesting spot.

Dry Bags
Are provided to keep your valuables safe, keep your food, wallet, cell phone, towel dry.

Ropes
Are tucked inside each kayak to enable you to secure your boat in a windy area in case you want to get out for a bit.

Safety Gear
Our safety gear includes a whistle, bilge pump & bailer and first aid kits are within hands reach in the kayak.

Maps
Are provided to give explorers the big picture and the details necessary to stay on track.

Bags For Trash
What goes in must go out! Queen's River Kayak Company is a strong believer of caring for the rivers and lakes that we are fortunate to paddle in. Please bring all you trash out with you and leave no trace.

Orientation
Before heading out we will provide basic safety and river/waterway orientation. We will assist you in becoming comfortable about the boat, the selected waterway, the area you will be exploring and the equipment you will be using. The best part about the trips is the location in which you will be paddling. These are very scenic, remote and peaceful places with wildlife and clean water. Pack a picnic and enjoy your outing.